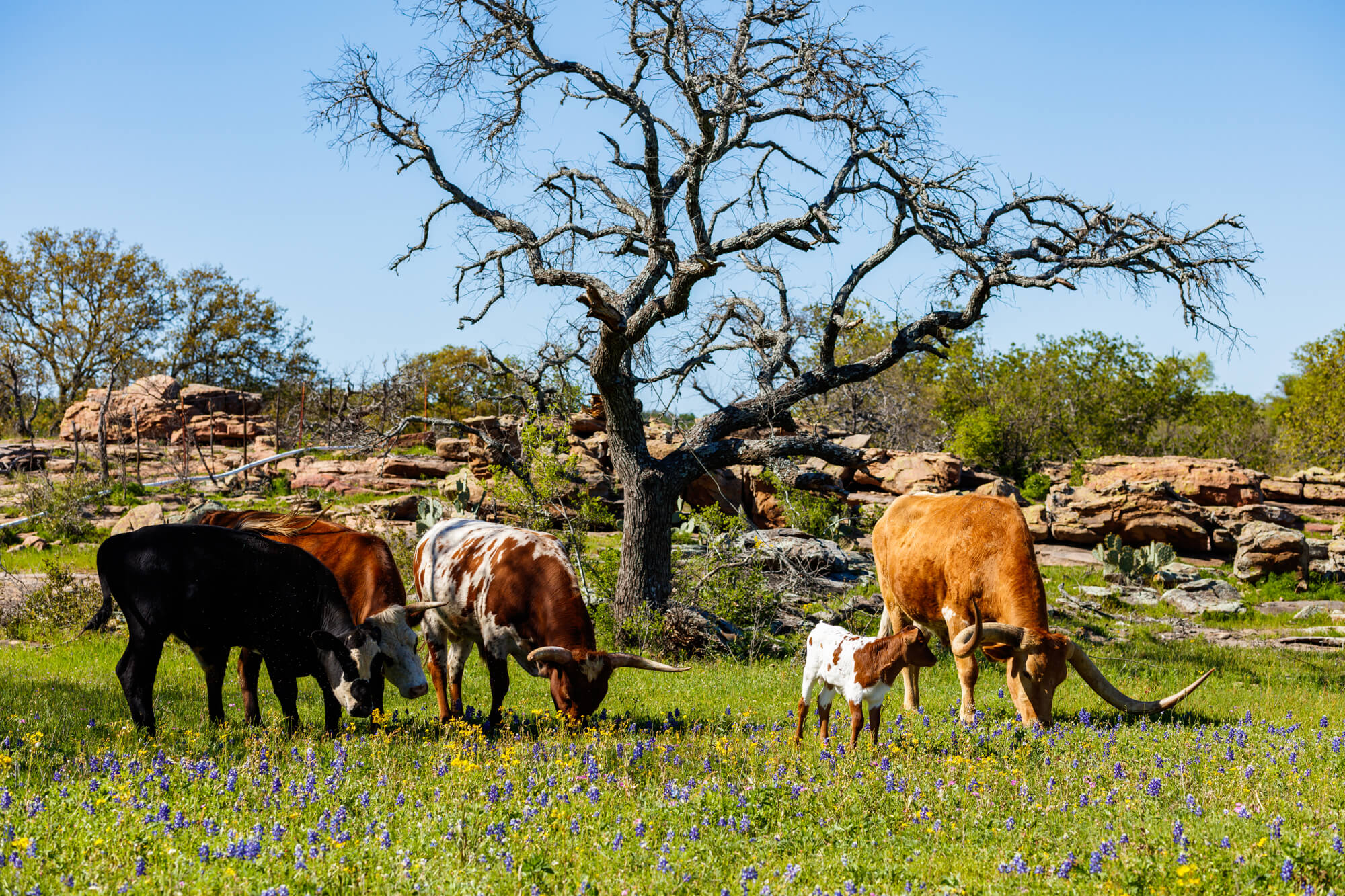 Despite some challenges, buying a ranch in Texas can be an excellent long-term strategy. For those willing to invest in the infrastructure and upkeep needed for a successful beef ranching operation, Texas ranch land is a solid choice.
Is Buying a Texas Ranch a Good Investment?
If you are considering purchasing Texas ranch land, there are some important factors you should consider. Beyond the pride of owning a productive and beautiful piece of this great state, owning a Texas ranch can be a lucrative investment.
Consider these statistics:
Texas has almost double the amount of cattle and calf production of any other state
Land value for cattle production is greater in Texas than any other state in the nation
Ranches in Texas lead the nation in total acreage dedicated to beef production by a wide margin
What is the ROI for Buying a Texas Ranch?
Land in Texas is a relatively inexpensive purchase that carries the potential to produce good income for investors. There is no income tax in Texas and the cost of living is low compared to many other states. On average, state and local taxes make up approximately 7.9 percent of the state's per capita income. So taxes on a Texas ranch will not be a great burden to bear.
Building expenses are also reasonable in Texas. Low tax obligations and reasonable labor prices help to keep costs down, increasing the possibility for profits with an in-demand beef production ranch.
Where Should I Look for a Texas Ranch?
In Texas, there are more than 130 million acres devoted to ranching and farming, with most of these acres dedicated to beef production. Ranches are available throughout the state including the areas of South Texas, West Texas and in Hill Country in Central Texas. Where you buy depends on your exact needs and limitations.
Before beginning your search for a Texas ranch, take a close look at your budget. Land prices will vary depending on several factors, including the total number of acres and any improvements already made to the property. Knowing how much you have to invest can help to narrow down the choices to a reasonable number.
How Hard is it to Farm on a Texas Ranch?
Drought, herd culling and expenses involved in rebuilding cattle herds are some of the challenges you may face as the owner of a Texas ranch. However, it is certainly possible to maintain a profitable beef ranch in Texas. Beef production in Texas alone exceeded $10.5 billion in 2012. Texas is the number one state for beef production in the US and has been for a very long time. Investors willing to put in the time and effort have every reason to expect a strong return on their money.
I already Own a Texas Ranch – Should I Sell it or Sit on it?
Despite being the second largest state in the Union, there is a finite amount of land in Texas. So whether you sell a ranch for profit now or wait until the demand increases as more people move to our fine state, you have a strong investment potential with either decision. That being said, waiting may make the most sense for a long-term investment since demand for land with an established, successful ranching business is only likely to grow.
Call Paramount Property Analysts for a Texas Ranch Valuation
Whether you are looking to buy or sell a Texas ranch, call the professionals at Paramount Property Analysts to get a fair and accurate appraisal of its worth. Our team includes appraisal experts who have years of experience working with Texas ranch, farm and rural properties.