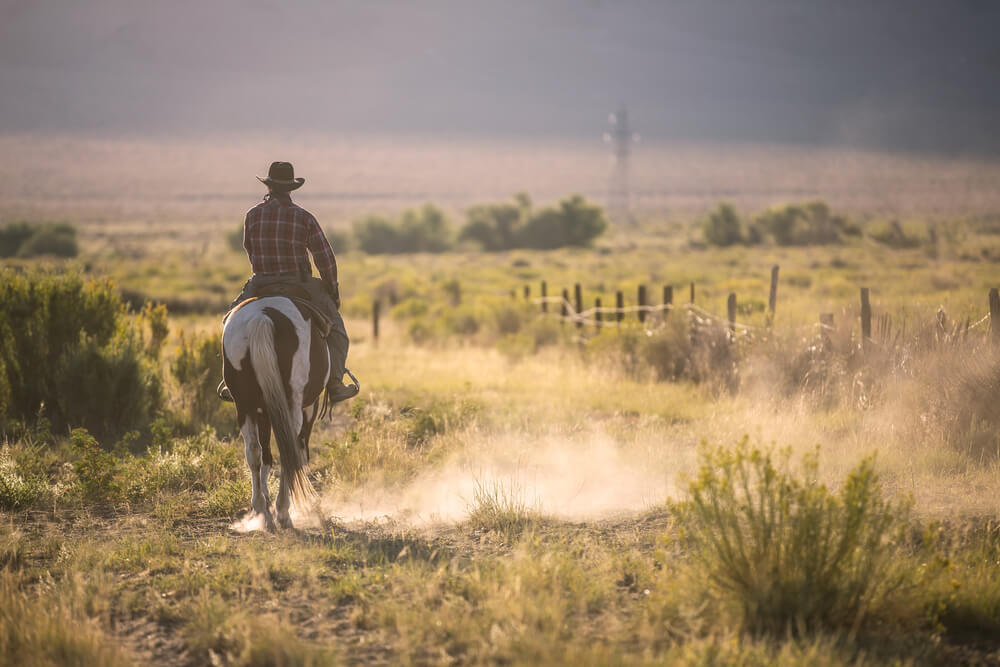 Take time to research the "typical" day of a rancher before investing in a ranch. A realistic vision of the lifestyle and all of its hard work and rewards will likely help you become more successful. Enjoy living out your dream of being a cowboy in Texas.
Before Investing in a Ranch Know What to Expect
Ranching requires lots of hard work, and is not for the faint of heart. You'll work closely with horses, livestock, hogs, sheep and other farm animals. You will likely need to build and repair fences too. Driving your tractor during long, hot days and performing many other challenging tasks can give you the sense of adventure and accomplishment you've always wanted.
As you're probably well aware, this is not a get-rich-quick scheme. Experienced ranchers advise that well-run ranches generate between one to three percent in profits annually. However, there are times ranch owners may break even or lose money. As long as you prepare yourself, you should be ready to take on the ranch life.
Figure Out Your Budget
First things first. You must understand your budget. This helps you determine the total you should expect to spend on a ranch, including initial investment and operational costs.
Once you have decided on a dollar figure to invest, create a wish list. Do you want a ranch on a paved county road within two hours of a major city? How about a lake or a river on the land? Good topography with rich grasslands? Mineral and water rights? No conservation easements? Acreage that qualifies for favorable agricultural tax status? All of these factors will play a major role in the price of rural properties.
To find a ranch within your price range you may have to give up some of those items. It's always helpful to estimate your investment threshold before beginning your search. Keep in mind, however, that a ranch in a prime location will likely hold its value better.
One tip we offer buyers; make sure to focus on the land that checks off most of the items on your wish list.  You can skip those ranches with a beautiful house and improvements, if it includes the land qualities of what you are really looking for.
Texas Ranch Buying Tips
Here's our list of several factors to consider when investing in a ranch. They include:
Mineral Rights. Land rights and mineral rights are two separate claims. Potentially, the owner of the mineral rights could mine or drill on your property, and you would not earn a dime.  Be sure you're clear on who owns what and exactly the "rights" included in the purchase price.
Water Rights. Buyers should understand public access to their streams or rivers on their property. Do the access laws allow the public to fish your waterway? Additionally, get a clear understanding of whether your river has flooded or dried up in the past.
Conservation Easement. This restricts the land from undergoing development. This could be a positive or a negative, depending on your long-term plans. While a conservation easement can hamper plans for adding buildings or infrastructure, it can have added value for a buyer who wants to maintain natural features.
Hire a Management Team. You may need a team of experts to maintain your ranch. A geologist, aqua biologist, irrigation specialist, rangeland specialist, ranch manager or management firm may help out. In general, the management fee adds additional operational costs but a well-run ranch can cover this expense with being more efficient.
Full-time vs. Recreational. A majority of buyers want to avoid being full-time cowboys and prefer to be recreational owners. This means you can buy a few horses and enjoy the sunsets, hunting and fishing on the land. Whether you're planning on full-time ranching or being a weekend cowboy, it's required you provide grazing rights for livestock in order to maintain the beneficial agricultural tax status.
Low-interest Financing. Agricultural credit unions like American Farm Mortgage and Financial Services and specialized lending groups like U.S. Department of Agriculture Farm Service Agency offer special rates for purchasing ranches. Interest rates are generally lower than those for buying a house.
Tax Benefits from Owning a Texas Ranch
Investing in a ranch comes with several federal and state tax benefits. The Internal Revenue Service allows part-time and full-time ranchers to deduct expenses on their income taxes. This includes equipment, such as tractors or ATVs, utilities, loan interest, operational losses, wages and other expenses, and depreciation on buildings and equipment.
Additionally, the State of Texas offers several tax benefits. You can earn a homestead residence exemption of at least $25,000 if your ranch is the main place you live. Wildlife tax exemption for ranch lands that promote wildlife preservation can also benefit your bottom line. Finally, if you're a senior citizen or disabled you can receive an additional tax exemption of $10,000 off the homestead exemption.
Let the Expert Appraisers at Paramount Property Analysts Help You Buy a Ranch!
If you have your heart set on investing in a ranch in Texas come to Paramount Property Analysts for help identifying the right property for you. Identifying the true value of ranches is just one of our firm's specialties. Call us today for rural real estate valuation and property tax consulting across Texas and throughout the southern United States!