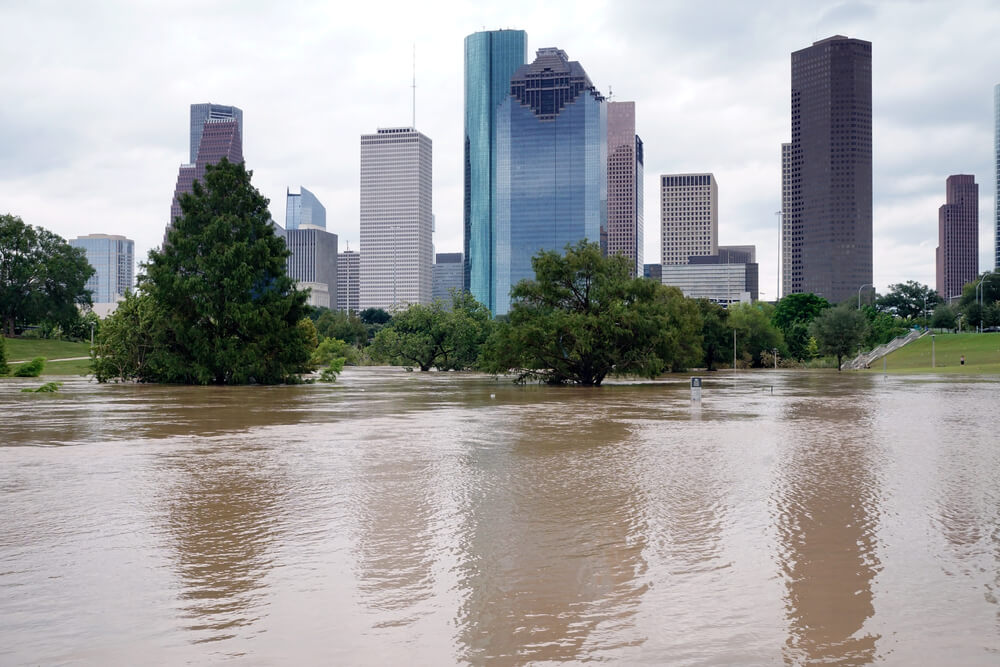 Commercial real estate after Hurricane Harvey stormed through the Houston area took a beating. The strongest hurricane to rip through the area since 1961 dumped more than 50 inches of rain on the region, causing as much as $65 billion in damages. While expected to suffer from lost business in the months ahead, the area's strong economy will help commercial property rebound soundly. Paramount Analysts and others are assessing the damage and analyzing the exact toll Harvey took on commercial real estate.
Commercial Real Estate After Hurricane Harvey
Commercial real estate after Hurricane Harvey has begun its recovery. The strongest storm to clobber the Houston region since 1961 dumped more than 50 inches of rain in a matter of days wreaking extensive property damage from flooding. Flooding damaged an estimated $55 billion worth of commercial property, representing about 38 percent of Houston's commercial real estate space.
While most commercial property owners have insurance to help in their recovery, Harvey put a significant amount of securities at elevated risk. About 2,900 commercial properties carrying about $29.6 billion worth of debt were sold as commercial mortgage-backed securities in the 54 counties hit by Harvey, reported data firm Trepp Inc. Banks, insurance companies and other lenders also hold billions of dollars of debt backed by commercial real estate affected by the hurricane.
Eighty-three percent of the flooded office properties existed in the Katy Freeway East and West — also known as the Energy Corridor — Galleria, and Midtown got hit the hardest by flooding. These properties sit adjacent to Buffalo Bayou which snakes through the city and lie near both the Addicks and Barker reservoirs that both released water in the wake of Harvey.
Flooding of retail properties mostly occurred in strip centers in the Kingwood, Cypress and west Houston areas.
The Good News on Harvey's Impact
Commercial office space suffered a double whammy from Harvey and record occupancy losses because of the downturn in the energy market. However, one survey indicates a quick recovery. It found 91 percent have reopened already or will be open for business prior to the end of 2017. That leaves just 9 percent rebounding in 2018 or beyond.
In retail, the outlook looks more difficult with limited leasing space available in the Houston area. But local retail sales should skyrocket in nearby areas, such as Harris, Montgomery and Fort Bend counties.
Commercial real estate forecasts tout hotel, multi-family and apartment buildings. Those property types have generally rebounded well following major storms and Harvey looks no different.
Harvey flooded 113,843 homes worth $29 billion and encompassing 6.7 percent of the local market. Some estimates report Harvey may have damaged up to 14.2 percent of residential properties. That combined with the fact that roughly 72,000 apartment units experienced flooding should increase the demand for hotel rooms, multi-family dwellings and apartment units.
The Houston area had overbuilt hotel, multi-family and apartment space and before the storm earned the distinction as one of the worst markets for those commercial properties. For example, apartment vacancies had risen above 11 percent compared to the national average of about 5 percent. However, those numbers should turn around dramatically.
Rely on Paramount Analysts for Your Commercial Real Estate Needs
Our experienced analysts stand ready to help you navigate the complicated issues arising in commercial real estate after Hurricane Harvey. Call us today to discuss how Paramount can help you best!